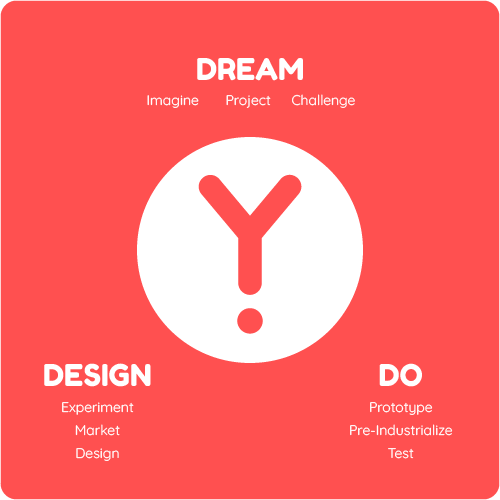 Y.SPOT ASSERTS ITS POSITION AS A GLOBAL CENTRE FOR OPEN INNOVATION.
Within its walls, a community of industrialists, start-ups, research centers, institutional and cultural actors collaborate to address the major challenges of today and tomorrow.
Imagining the future together
Our objective? To make Y.SPOT a place that companies naturally turn to when they want to make a strategic move, both in terms of products and positioning.

DREAM
Dream
Reflections and initial trends, product roadmap, identification of technological building blocks.

DESIGN
Design
Rapid prototyping workshop, extended reality workshop, evaluation of technological solutions.

DO
Do
Proof of concept (POC) realization, pre-industrialization phase, access to CEA pilot lines
innovation projects per year
dedicated persons for your innovation projects
Technological demonstrators
Do you have a project? Any questions?
Thomas BORDY
CEO & cofounder - DIRECT ANALYSIS
 « We have developed a DNA micro-factory, which allows agri-food industries to accelerate the detection of bacteria. From the beginning of our project, we benefited from the support of Y.SPOT. Their design teams helped us create functional prototypes for demonstrations to potential customers. Thanks to their workshop, we were able to scale up production. Today, at the pre-industrialization stage, we will be able to rely on new resources and new funding to accompany us even further. » (Translated from French)
Xavier BRÉNIÈRE
Head of Applications - Lab LYNRED
« What is particularly interesting within Y.SPOT, beyond a user-centered approach and market analysis, is their ability to involve external specialists in a given project. Whether it's experts in drones, health, or artificial intelligence, their involvement creates a stimulating and enriching exchange of knowledge. Every time, it's a true source of inspiration! » (Translated from French)
Kim TRINH-THIEU
Deputy CEO - HP France
« For us, Y.SPOT is the physical embodiment of the famous triad: research-education-industry. We have already committed to Y.SPOT Labs, and now, we have chosen to set up our operations in the Y.SPOT Partners building to actively participate in the dynamic Grenoble ecosystem. The challenge is to invent the future there, the new technologies, and the new services of the coming decades. » (Translated from French)
Jonas Forot
Cofounder - Sporttesting
 « Sporttesting is delighted to be a part of the new premises at Village by CA Grenoble within Y.SPOT PARTNERS. This represents a great opportunity for us to welcome our clients in an exceptional environment. We value well-being and a positive atmosphere within Sporttesting and among our collaborators, and these new premises contribute greatly to that. » (Translated from French)